PM Narendra Modi hails Nitish Kumar's stand on corruption
India Now Jul 26, 2017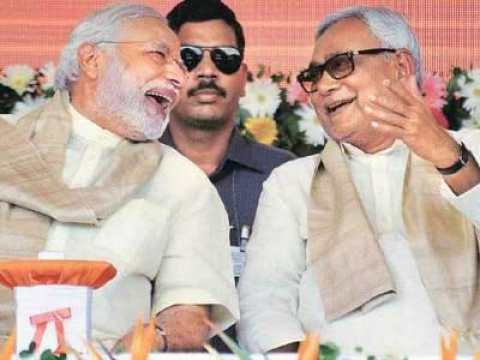 Prime Minister Narendra Modi with JD(U) leader Nitish Kumar (File photo)
NEW DELHI: Prime Minister Narendra Modi on Wednesday congratulated Nitish Kumar for joining the fight against corruption.
Soon after Nitish Kumar tendered his resignation to Bihar Governor, PM Modi tweeted "1.25 crore citizens support and welcome the fight against corruption."
 

भ्रष्टाचार के ख़िलाफ़ लड़ाई में जुड़ने के लिए नीतीश कुमार जी को बहुत-बहुत बधाई।
सवा सौ करोड़ नागरिक ईमानदारी का स्वागत और समर्थन कर रहे हैं
Top Comment
Nitish has taken a brave step to walkout of the govt which consisted of corrupt parties. Now he shouldn"t align with BJP which will spoil his political career.. If BJP is really works for removal of…
The Prime Minister in a series of tweets praised the stand taken by Nitish Kumar on the issue of corruption.
 

देश के, विशेष रूप से बिहार के उज्जवल भविष्य के लिए राजनीतिक मतभेदों से ऊपर उठकर भ्रष्टाचार के ख़िलाफ़ एक होकर लड़ना,आज देश और समय की माँग है

Nitish umar today resigned as chief minister, citing differences with ally RJD over corruption charges against Deputy Chief Minister Tejashwi Yadav , son of Lalu Prasad.
Powered by RozBuzz Wemedia